Mobile coverage is increasingly becoming a prerequisite for carrying out tasks and ensuring personal safety across various sectors. Relying solely on one mobile provider for uninterrupted coverage is impossible, while all mobile providers together offer nearly 100% nationwide network coverage.
This challenge laid the foundation for the inception of Lyfo in 2018.
Through the Lyfo.NET solution, your device rapidly and automatically switches to a temporary alternative provider whenever the preferred provider's network coverage falls short, creating the perfect backup connection for Voice, SMS, and Data and even Campus Networks.
Lyfo.NET is the perfect value added proposition for Premium Network Coverage and is exclusively distributed globally through partnerships with mobile operators, MVNEs, MVNOs and device manufacturers.
Increased QoS for mission- critical mobile communication
Ensuring continuous attachment to the best available network, whilst switching back to preferred network as soon as right quality is available again (mainly national roaming scenario).
Increased user- experience for users in border areas
Avoidance of QoS deterioration for all subscribers in border areas (international and private/public roaming scenarios).
Premium service for high-demanding customers. The service will eventually become mainstream both in national and international roaming scenarios.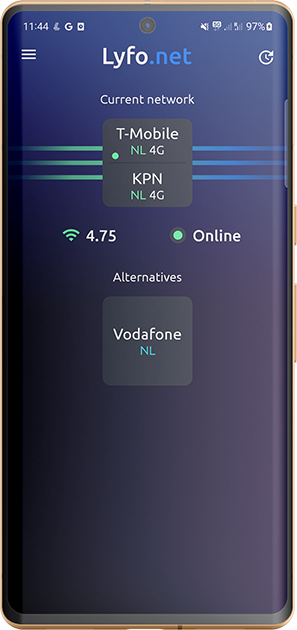 Ability to control roaming costs
Avoid stickiness to a non-preferred / costly roaming partner (mainly international roaming scenario).
Future: Enable high bandwidth, low latency IoT uses cases
Enablement of the required QoS for moving objects with high bandwidth and low latency requirements (e.g. connected cars) (both in national and international roaming scenarios).
The detecting and switching is done by means of an NQI algorithm. This Network Quality Indicator forms the heart of our application and consists of 10 different parameters that jointly attach a value to the NQI.
Lyfo.net for Mobile Operators
Best-effort mobile communications for high demanding customers, like public safety, are no longer acceptable.
Providing constant , universal, and seamless connectivity is essential.
How to lower the churn and to win new customers in a more competing world?
Lyfo.net for Mission-Critical
Service interruptions caused by a lack of coverage or network outages is a serious problem for mission-critical operations of public & private networks.
In a world of mission-critical, business-critical applications & customer expectations of always being mobile connected, the challenge is how to reduce – or preferably eliminate –

Lyfo.net for Private Networks
No-one can build a 100% reliable communications network, not even a private one! Being out of reach can seriously damage your operations and cause an health and safety issue.
Wouldn't it be great if your mobile device could switch automatically from the public network to your private 4G or 5G network. 
Lyfo offers different solutions, each of which contributes to our proposition around seamless roaming.

Software solution for switching between any mobile 4G/5G network.

The high performance sim with access to all mobile networks.

Accelerated switching between mobile networks, by network redundancy.
Stay up to date
on the latest
Lyfo news.