Software solution that allows the user to be connected to any available national and international mobile network in seconds. Lyfo removes the dependency on one local provider and ensures users are connected to a 4G/5G data network.
When every second counts, you want mobile communication you can depend on.
With revenues and cash flows dropping and the urge of investing in your wireless networks, the need for solutions to increase your ARPU is growing vastly.
Learn more about our solutions.
Lyfo is subdivided into 4 different services, each of which contributes to our proposition around seamless roaming.

Software solution for connecting to any mobile 4G/5G network.

The high performance sim with access to virtually all mobile networks.

Fastens the switch between mobile networks.

Data communication with availability up to 99.999% with our 4G router.
Lyfo guarantees automatic access to all available 4G/5G mobile networks in Europe! Does a mobile network (temporarily) have no coverage or is it malfunctioning? Within a few seconds the app switches to another available mobile network.
Increased QoS for mission- critical mobile communication
Ensuring continuous attachment to the best available network, whilst switching back to preferred network as soon as right quality is available again (mainly national roaming scenario).
Increased user- experience for users in border areas
Avoidance of QoS deterioration for all subscribers in border areas (international and private/public roaming scenarios).
Premium service for high-demanding customers. The service will eventually become mainstream both in national and international roaming scenarios.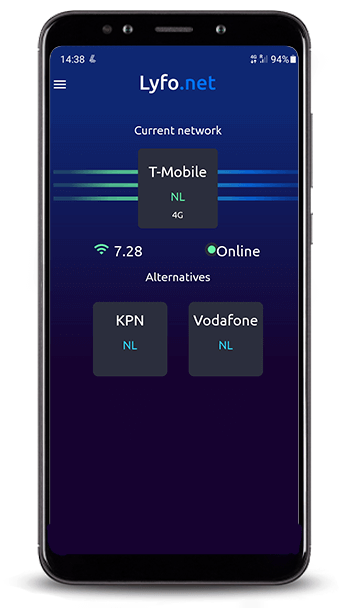 Ability to control roaming costs
Avoid stickiness to a non-preferred / costly roaming partner (mainly international roaming scenario).
Future: Enable high bandwidth, low latency IoT uses cases
Enablement of the required QoS for moving objects with high bandwidth and low latency requirements (e.g. connected cars) (both in national and international roaming scenarios).
The detecting and switching is done by means of an NQI algorithm. This Network Quality Indicator forms the heart of our application and consists of 10 different parameters that jointly attach a value to the NQI.