Connected to mobile networks using Lyfo.SIM.
Lyfo.NET, the unique application, ensures that users are no longer unavailable due to a weak mobile connection.
With Lyfo.NET you will always stay connected, no matter where you are. It is a mobile application that ensures you are connected to the best network available in your area regardless of who your mobile provider is.
Our application ensures that the switch to another network happens in seconds. It also prevents you from being offline for minutes. You will be assured that you are always connected, even in places where you would normally lose your network connection, such as at national borders or in certain regions abroad. Lyfo.NET constantly monitors the availability of other, better mobile networks. The moment the network you are currently connected to no longer meets our Network Quality Index (NQI) algorithm, Lyfo.NET immediately switches to the best alternative network. Lyfo.NET provides a solution which enables you to quickly switch between all mobile networks.
Unique and thoroughly tested.
This advanced technology has not been developed by anyone before, its functionality is distinctive itself. Usually, you have different networks in your hometown and abroad. The difference with our product is in the speed. To be always reachable, it is important that you switch network as quickly as possible. There are multi-SIM solutions available, but there is no mechanism to switch between networks like Lyfo.NET does.
The application has been tested by driving over national borders, a situation in which your mobile connection often is lost. When checking when the network connection was lost and how long it would take to connect to an available network, we proved that without the application, you can easily be offline for 15 minutes. With Lyfo.NET you are connected to the best available network within seconds.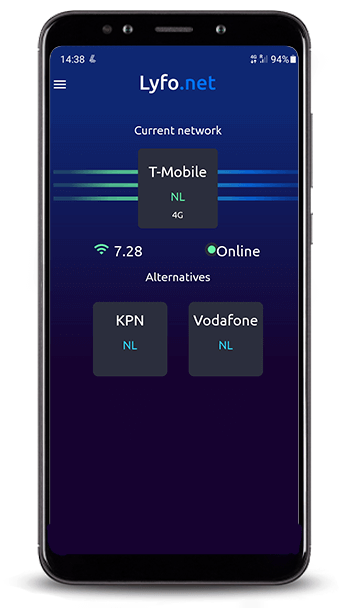 Learn more about our solutions.
Lyfo is subdivided into 4 different services, each of which contributes to our proposition around seamless roaming.

The high performance sim with access to virtually all mobile networks.

Fastens the switch between mobile networks.

Data communication with availability up to 99.999% with our 4G router.